North East London Cricket League

North East London Cricket League
News Report
Camel Snatch win; as Royals suffer first defeat and Sov make it two from two
07/06/18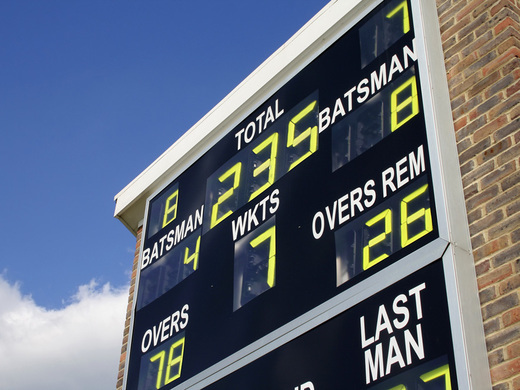 Camel pull of win in tight win in low scoring game
Saturdays match at Millfields between Camel CC and Bloody Lads CC proved to be an epic encounter between two teams playing competitive cricket in the correct spirit.
Camel captain Tom Porter won the toss and decided to bowl first on a green wicket in hot and sunny conditions.
From the off the Camel opening bowlers had the Bloody Lads under pressure with Hagan bowling a fiery spell and Karim swinging the ball into the right handed batsmen. Karim got the early breakthrough but the topped order looked set before a stellar piece of fielding from Hagan . Alexander hit the ball firmly into the covers only for Hagan to pounce and in one fluid motion obliterated the stumps leaving Alexander stranded yards out of his crease.
Bloody Lads scored runs intermittently but there was a sense the run-out had affected the batting side.This proved to be the case as captain Ensor attempted a suicidal run only for Berkson to keep his calm and run out the moustached Australian.

After a few frustrating overs Chadwick was asked to bowl from the terrace end and produced a spell of bowling that will live long in the memory.
The Bloody Lads had no answer to Chadwick who got the important wicket of Solomon caught behind off a thick outside edge and had Tobias caught one handed by a full stretch Hoslin at first slip.
Bloody Lads were bowled out for 110 with Chadwick finishing with figures of 5 overs 3 maidens 10 runs and 5 excellent wickets which left the statisticians poring over the league record books.

The Camel got off to the worst possible start losing their captain early and finding runs hard to come by. Cleever batted well getting the scoreboard ticking but wickets kept falling with some excellent bowling from Jimmy and Galltieria. Hoslin came to the crease with the camel in big trouble and the bloody lads sensing an unlikely victory. Hoslin (48) had other ideas and played a text book innings to claw the camel back into contention.
Backed up by the resolute Berkson (22no) the Camels edged past the target with 2 wickets to spare. A fantastic day of cricket was had by all, expertly umpired by the impartial Ali.
Sovereign defeat new comers Pacifc
In a tight, low scoring match on a glorious sunny day at Springfield Park, Pacific batted first. The Sovereign kept things tight and made it difficult for Pacific's batsmen to score, with the pressure resulting in three early wickets. However, B Moses (38) and B Stanley (29) came together at 28-3 and steadied the ship for Pacific, playing patiently and hitting some great boundaries, putting on a partnership of 73 runs that brought Pacific right back into the game at 4-101.
Lucius Fulgence (3-28) was then brought into the Sovereign attack and proved its spearhead, initiating a batting collapse ably assisted by Jamie Wells (2-23) with Pacific eventually all out for 136 off 33.1 overs.
The Sovereign took the field with confidence with the feeling that Pacific were below a par score on this wicket but Pacific bowled full and straight with Umresh Pandya (4-15 off 8 overs) in particular making life very difficult for the Sovereign as an upper order collapse brought them to 77 for 6 with opener Luke Browne still at the crease. Browne (45 not out) batted superbly and was joined by Ben Blausten (17) with the pair putting on 44 to see the Sovereign home despite a couple of late wickets.
Hackney dent Bloomsbury's progress
Hackney eased passed Bloomsbury to inflict the first defeat on the Royals this season. On a muggy, overcast afternoon Bloomsbury won the toss and elected to bowl on what looked to be early season green seamer. The decision to bowl was immediately rewarded with a wicket of Hackney's opener Matt Tait caught off an outside edge in the first over. Bloomsbury's probing lengths then saw Hackney's skipper, Edgar Maddicott, fall cheaply for a careful 24. Opener Jack Evans (88), and John Turner (70) , however, were equal to the task, playing carefully until the 20 mark and then accelerating as Bloomsbury spread the field. A large total looked to be on the cards but some fine end of innings bowling by Sakil Mahmud and Arif Islam saw Bloomsbury restrict Hackney to 215/7 of 40 overs. In reply Bloomsbury lost an opener in the first over. That brought key all rounder Sakil Mahmud to the crease. Despite an excellent display of seam bowling by Craig Raddon , who was unlucky to remain wicketless, Hackney struggled to reign in Sakil's sparky innings of drives and pull shots. The introduction of Jack Evan's spin just before the drinks break proved to be the turning point as fine catch saw him caught at long-on for 48, leaving Bloomsbury on 84-2 at the 20 over halfway point. That Bloomsbury were unable to capitalise on this solid foundation was mainly down to disciplined lines bowled by left armer Simon Trevethick (8-28-2), Jack Evans (8-33-3), and Kartik Joshi (4-24-0). After showing a flicker the Royals innings subsided with Robert Perrett's in swing accounting for the tail. Bloomsbury end on 153/10 in the
36th over.
Follow the site to get the latest news and results straight to your email