North East London Cricket League

North East London Cricket League
News Report
Clapton succumb to Canary Wharf while Hackney and Fields march on
10/07/19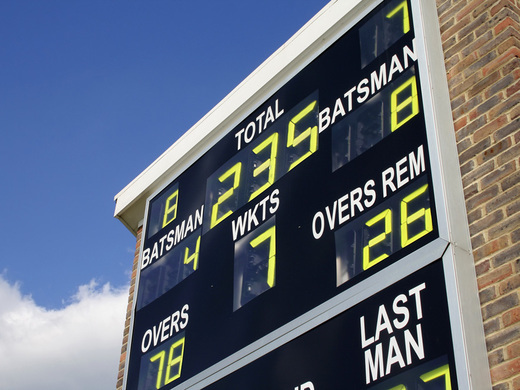 Hackney (248/8) fend off Bloomsbury challenge (173 all out) with 75 run win

The league fixture between Hackney CC and Bloomsbury Royals took place at London fields under an anonymous skyline. Hackney won the toss and decided to bat first. The opening pair of David Stranger Jones and Oliver Wrigthon were fast out the traps, knocking it to all parts to gather a total of 55 for 0 after five overs. Bloomsbury were able to tame the charge, in particular Ben Hayward who bowled extremely tidily, finishing with 3-33 from his eight.
With a target of 249, the Bloomsbury batsmen were in a hurry to get the chase underway. Sohel Ahmed was in attacking mood, however he was caught after quick fire 18 off the bowling of Rob Perrett.The game was in the balance when a strong partnership built between Shahin Tota 23 and Din 59 leant into the Hackney bowling attack. The game changing spells came from Manu Ravishankar 3-41 from 8 and, in particular, skipper Edgar Maddicott 3-28 from 5, the latter taking the all important wicket of Bloomsbury's start batmen Din.

After a stern test, Hackney tied up a comfortable win, bowling Bloomsbury out for 173. overs.

Canary Wharf (182/4) inflict first defeat of season on Clapton (178/9) winning by 6 wickets
On a day with some forecast for light rains, Canary Wharf (CW) won the toss and put Clapton & Oval (C&O) in to bat. The game started on an even keel with both Jamie and Amir starting off cautiously. Jamie used the gaps in the field well to take singles, while Amir waited for bad balls to score and dealing in boundaries. Krishna (8-2-25-2) broke the opening partnership in his 4th over which tilted the game in CW's favor for the next hour. Fortune then favoured Abinav (6-2-18-3), bowling second change, seemed to find the right spots on the pitch to get both Taylor and Ray bowled on balls that kept viciously low. The spin duo of Arjun and Kunal (8-2-20-2) then kept things tight as C&O staggered to 84 for the loss of 5 wickets at drinks. CW spinners continued to spin a tight web around the batsmen, not giving away easy runs. Amir and Ish had together found a good base to launch off. That's just when Kunal, with his wily spin, got Amir bowling him for an extremely well played 46. A well set Ish then paired with Ankit to step up the run rate. Especially after the 27th over, they found a few boundaries coming their way as they managed to score 35 runs in about 4 overs. CW then brought in their pace battery back with Krishna applying the brakes, Chetan coming in to get Ankit - who was finding the middle of the bat quite well and Abinav who bowled a tight couple of overs at the end to restrict C&O to a decent, but chase-able total of 178.

With a tricky target to chase, Canary Wharf had a shaky start losing opener Sandesh in the 3rd over! Sid and Nipak then quickly put runs on the board with some well-timed boundaries on either side of the ground, being particularly harsh on Ankit who gave away 21 runs in the 2 overs he bowled. Nipak then fell, bowled off an inside edge, opening up the middle order a little earlier than CW would have liked. Charan, who shuffled down the order, then put up a sensible partnership with Sid keeping the run-rate at over 5RPO. Iqbal (8-1-26-1) and Taha (6-0-30-2) kept things pretty tight, not giving away easy singles inside the circle. The batsmen, however, made sure to put the occasional bad balls off to the boundary. They built a measured 42 run partnership before Sid fell LBW to a rare cross batted attempt. This brought in Arjun with CW at 87/3 in the 17th over. Needing 92 runs to win off 22 overs looked to be an easy outing for CW - Arjun however made a mincemeat out of the total and chased it down in 8 overs. He particularly feasted on the spinners hitting Amir (2-0-30-0) and Ray (2-0-35-0) all over the park. Arjun's 75 (44) consisted of 4 sixes and 8 fours. Clapton & Oval were left helpless as the incessant boundaries were interspersed with some cheeky singles between Charan and Arjun. The day ended early as CW wrapped up the total in the 25th over and recorded another victory in the NELCL.

London Fields (262) continue unbeaten run with 88 run win over St Clements (174 all out)

London Fields looked to continue their unbeaten run and after winning the toss began in the worst possible manner. Regular run machines Alex Turner, Robin Friend and Vijay Shah all went cheaply and when Hitesh Naik continued his bad run of LBW's the defending champs were 4 down for 38. Luckily the middle and lower order have some ticker and contributions from the remaining batsmen were controlled and well paced. Selective big hitting and excellent running took them to a very defendable total of 262; an excellent recovery.

St Clements have posted some big scores this season and their left-handed opened showed why, with free flowing stroke play form the off. After coming down the pitch to negate the swinging ball keeper Robin Friend stood up and a few balls later, with the swing now causing him trouble, the big hitting opener plopped one to Chris Murphy at mid on, positioned well at two thirds of the way to the boundary. The fields dominated with their endless seam options and St Clements never really got back into the match. The match became a series of long dots followed by a boundary to a rare loose ball. The odd batsman sparked a revival with a few boundaries in an over but none was able to knuckle down and build a substantial innings. Super mop, Dhawal Sawant came on to rip the tail out with fabulous figures of 4-10.

St Clements seem a good addition to the league. They were a friendly and fair opposition with obvious talent to put up a decent match. I, for one, would encourage them to stay on board next season.
Follow the site to get the latest news and results straight to your email