North East London Cricket League

North East London Cricket League
News Report
Fields return to winning ways while Hamlets, Lads and Canary Wharf all seal wins
20/08/19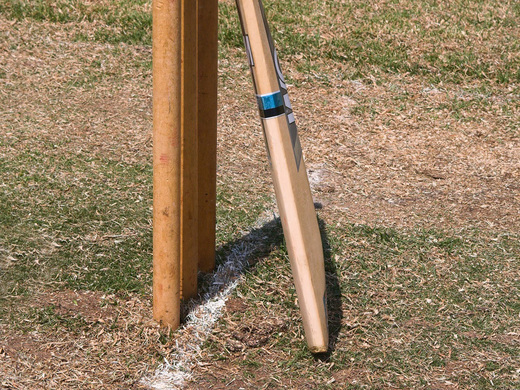 Tower Hamlets (150/10) skittle St Clements (107/9) to win by 43 runs

The dreaded bowler friendly pitch of Valentines Park was hosting yet another rescheduled game between St Clements and Tower Hamlets. Tower Hamlets won the toss and elected to bat first. This while being unusual on a pitch certainly affected by the week's rain, was still a conscious decision by the away team captain who backed his bowler like he has been backing them for the past two games.
The bowler friendly nature of the pitch was clearly seen by the first innings score of 150 for 10 in 30.1 overs. With Khaled Ahmed and Niaz Chowdury being the pick of the batsmen scoring 26 runs and 24 runs respectively. While St. Clements bowling was spearheaded by Afgan who ended with 4 wickets for 24 runs in 7.1 overs.
The second innings was resumed with bowling dominance too with St. Clements being all out for 107 in 30.4 overs. While Arslan fromSt. Clements provided lone resistance till the end ending with a not out innings of 36 runs, Tower Hamlets bowling proved too good. The pick of the bowlers being Zakrin Ahmed who ended with 3 wickets for 20 runs in 8 overs which contained two, two wicket maidens. Ahammad Rabby and Ruhin Miah providing a vital support to clean up the batting order ending with 2 for 21 in 7.4 overs and 2 for 12 in 4 overs respectively.
This ended another day with Tower Hamlets victory by 43 runs through their bowling dominance.
Bloody Lads (97/3) trounce Clapton 93/10) by 7 wickets inside 18 overs
The Lads, opting to bowl first on a slightly damp wicket put on a relentless exhibition with the ball and in the field ousting Clapton and Oval CC for 93 after 38 overs. A strong line up of 7 bowlers pinned their opposition back with only the Captain Jamie sticking around for a determined 20 overs falling for 20 shortly after drinks. Line and length was the theme with all 7 bowlers getting great results against a committed COCC middle order. The pick of the Lads' bowling attack was Freddie Barber putting on a beautiful full spell of 3 wickets for just 9 runs. Another mention also for Solomon Sule-Legbe taking 3 wickets for 13 toppling the dogged tail end.
With only 94 to look at, Captain Stan Leeson lead his team to a fine victory with the bat anchoring his partners to achieve the win with a solid 18 not out. With 3 wickets falling, James Mulvey came in at 5 to seal the victory with 33 runs off 16 balls ending the match confidently with a maximum over mid off towards the faithful attendees. The game was won in 18 overs and was all down to the superb and efficient display in the first innings from the Bloody Lads bowling attack.
London Fields (278/8) returned to winning ways with a 130 run win over The Camel (148/10).
On a spongy Springfields, after the recent rain, The Camel asked LFCC to bat first. Fields lost early wickets to some tight bowling from Camel openers Kit and Sam and were 64-3. Rebuilding to 96-4 at drinks, left handers Hitesh Naik and Paul Teasdale forged a partnership while steadily upping the run rate. Hitesh accelerated to a quick fire 56 with Teasdale batting through to reach 84 before being caught in the last over. Some late hitting from Troy Utz (22*) took LFCC to a daunting score of 278.
The Camel set about the chase watchfully with the first three overs remaining scoreless. Opener Brendan began to open up, punishing anything short, before falling LBW for 33 to tall off spinner Dhawal who ended up taking six wickets with his steep turn and bounce. Phil Clark took 3 in a miserly opening spell with good support from wicketless Tom Damant who nonetheless finished with impressive figures of 6-3-19-0. Wickets continued to fall regularly with only counter attacking Hugo (21) and some late clean striking from Quinn (43*) offering much resistance. The Camel eventually ended all out for 148.
Bloomsbury (134/10) fall to the Canary Wharf Royals (136/8) losing by 2 wickets
CWRCC Captain Sandesh won the toss & put the opposition to bat. Bloomsbury Royals started strongly with the openers Sohel & Rana sharing a stand of 57 runs. But thanks to the astute bowling changes, Bloomsbury kept loosing wickets at regular intervals. Konark with his wily spin was the pick of the bowlers taking 3 wickets. CWRCC's other spinner Arjun, who by his own admission doesn't' spin the bowl - did somehow spin the ball on the day – and scalped two wickets.
For CWRCC the game had come after a hiatus of three weeks. The players were probably too busy praying to the weather Gods for a bright sunny day. Luckily, the Gods answered the prayers & Saturday was not as inclement as some weather apps had predicted. But perhaps the players forgot to put a word out to the heavens for a good performance with the Bat.
Chasing 134, CWRCC started poorly. The opening stand was broken in the 3rd over. The batsmen who followed did not fare any better falling to a brilliant spell from Bloomsbury's opening bowlers Ali & Shakib. Ali, in particular returned an impressive figure of 5 wickets for 28 runs with his deceptive pace. CWRCC batters fell like nine pins with the only exception of CWRCC's opener Charan, rechristened "Smith" by the opposition. At one point, CWRCC were tottering at 50 for 7 & few of the players had already started panning for an early post match drink. But CWRCC's no.9 Abhinav, who had earlier bowled a very tight line keeping Bloomsbury's run rate in check, put paid to the plans. He shared a match winning partnership with Smith a.k.a. Charan who hit an unbeaten 86 to take CWRCC home.
And finally, and most importantly, it was time to celebrate the day with a pint!
Follow the site to get the latest news and results straight to your email