North East London Cricket League

North East London Cricket League
News Report
Fields victorious in Title push, Camel edge Sovereign in thriller
05/09/18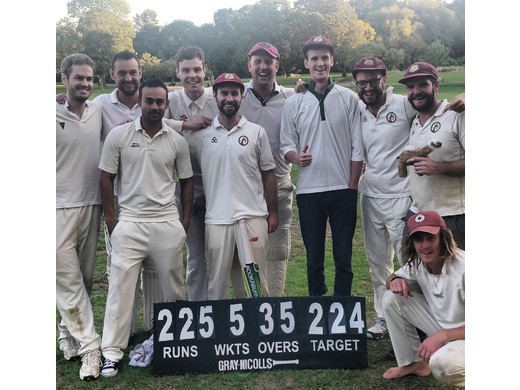 London Fields complete 5 wicket win over Clapton to edge towards title
London fields CC won the toss and chose to bat first. Robin Friend, their opener, hit few beautiful covers drives, as though to match the bright beautiful day itself, in his solid innings of 57. There were a few quick wickets before robin and Vijay Shah formed a decent partnership, matching shot for shot. Vijay dispatched a ball to the square leg boundary with palpable disdain; a ball that was aimed directly at his head and with that London fields was looking set for a big score. However disaster, for LFCC, was looming around the corner and its name was Abdul. Taking a hatrick and then also running wild through the lower order, Abdul left his mark all over LFC's batting card. Chris Rice, however, fought back bravely hitting few cracking shots before even he fell to Abdul but not before giving LFCC the fighting chance as they ended up managing to score 159. Claption & oval cc lost their second opener in the first ball of second over. Younis their opener, looked very solid but Phil Clarke and Upendra Singh Hussain managed to keep him under control. Troy Utz and Hershal bowled a very tight spell keeping things well under control. There were wickets falling consistently because of pressure from these tight accurate spells, Vijay taking 4 of them.Finally Clapton & oval CC
Camel edge Sovereign in Springfield thriller
The first September game of 2018 saw The Camel CC beat Royal Sovereign CC 5 wickets.

Previous meetings between the league's two great pub teams (who haven't changed their names for greater searchability for young Home Counties players moving to east London and looking for local cricket on Google) have always produced tight, classic matches – the last two resulting in extraordinary ties; the Sov–Camel rivalry is real and delicious. Once again, played with a wonderful competitive, good humoured and affectionate spirit, the game did not disappoint.
Camel won the toss, a rarity for captain Tom Porter, and put Sovereign into bat on a beautiful sunny at Springfield Park. Openers Olly and Jamie started off well on a brilliantly prepared wicket from the groundsman, flashing boundaries and rotating the strike before a flu-suffering Kit Caless, jacked up on Sudafed and clementines, bowled them each in near succession. That brought in Ken and Lucius, who steadied the ship, seeing off Caless and other opener, Nick Chadwick to bring bowling changes.
Boat-living, long haired maverick Richard Hagan bowled erratically for his first couple of overs and was taken to task by the languid and brilliant Ken – who, proverbially, put all the rubbish in all the bins around the ground. Max Sedgley bowling at the other end struggled to get the tenacious Lucius to edge his seamers as Sovereign ascended to a dominant position in the game. Ken reached a majestic 50, hitting straight fours and sixes with an entertaining swagger, before Lucius fell to Hagan. Hagan, having recovered well from being sent to Hackney Council to ask for more bins, then trapped the incoming Evans lbw for 0. The Camel seemingly drawing strength from a well in the E5 desert. Nick approached the crease to support the still big hitting Ken, but was quickly removed after drinks by Caless, flashing at a fast, bouncing ball and edge behind to keep Brendan Cleaver.
Ben ably assisted Ken for a great 7th wicket partnership, scoring 19 and moving the field around. Ken reached a transcendent and fabulous century, with deferent applause from the Camel's on the pitch and roars of approval from the Sovereign on the boundary. But then Joe Jarvis, fresh off the plane after living la vida loca in Mexico this summer, came through to trouble everyone. He had Ken caught and finally out on the long off boundary, then clean bowling Ben, getting Dennis caught at gully and Rory too. Jarvis then proceeded to drop the biggest dolly of the season off his own bowling, before Chadwick came back on to remove Joe and close out the innings. The Sovereign, led so magnificently by Ken had set a total of 225 to chase.
The Camel, stuffed full of lunch made by Matt Hoslin's mother, started their innings badly with openers Hagan and Cleaver falling in quick fashion to some sharp and fast bowling from Joe. This brought in Hoslin and Rana Ghosh who immediately started a counter attack, Ghosh in particular playing some imperious strokes and finding plenty of boundaries. A partnership of 97 placed the Camel in charge of the contest, before Ghosh was cleaned bowled by Evans on 49, one run cruelly short of a well deserved 50. A shift of momentum brought in David Sendall to bat with Hoslin. Sendal struggled to find gaps in the field as Hoslin reached his 50 with some nurdling, uncharacteristic singles. The Sovereign struck again, with the perennially accurate Nick castling Sendall to put skipper, and iberico ham fan, Tom Porter into bat.
Porter, returning to skipper the side from five weeks eating and drinking in Andalusia, edged on his second ball but was dropped by the keeper, Ken. It would prove a costly mistake for the Sovereign, as Hoslin, making his mother proud on the boundary, and Porter took the Camel to within touching distance of the required total. Hoslin ultimately fell to all round superstar Ken with a looping leading edge, caught and bowled, for an essentially match winning 79. Graeme Carlisle entered the fray, and assisted Porter's power hitting to take Camel's to 225, jamon-infused Porter finishing unbeated on 47.
Another stone cold north east London classic, between two very evenly matched teams. Long live Springfield Park and the inter-pub battles that provide so much entertainment and joy for 22 players and their entourage.
Bloodly Lads took maximum points against Stoke Newington who were unable to field a team.
Follow the site to get the latest news and results straight to your email