North East London Cricket League

North East London Cricket League
News Report
Hamlets march on while Sovereign clinch win over Pacific
27/08/19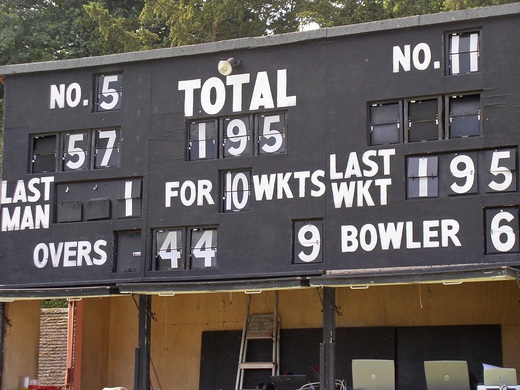 Royal Sovereign (135/4) show their class to deny Pacific ( 131 all out) with 6 wicket win

On a hot August Bank Holiday Weekend, Pacific CC won the toss and decided to bat. A number of the Royal Sovereign team arrived late, resulting in them forfeiting 5 overs giving Pacific an advantage before even a ball had been bowled. Pacific's opening batsmen made a quick start taking 34 off the first four overs before opening bowling pair Matt Spurr (1-27) and Joseph Allen (0-23) found their rhythm, the prior removing opener M. Woodland (13) leaving Pacific 45-1 after 9 overs. A change of bowling at both ends brought even more frustration to the batsmen, with Stephen Nelson (1-25) and captain Lucius Fulgence (2-20) - who removed dangerous opener M. Mehta - bowling through as the runs dried up. The second change of bowling proved to be the final death knell to the Pacific innings, with the dangerous Nick Franks (3-19) and Dennis Fanus (2-10) picking up 5 of the last 6 wickets, the other wicket an excellent run out from wicketkeeper Dwight Alexander, hitting the stumps at the opposite end with a direct hit capping off an excellent Royal Sovereign performance in the field. Pacific were all out for 131 after just 35.1 overs, negating the Royal Sovereign's five over penalty.

With a low target set, the Royal Sovereign lost opener David James for a duck to leave the score 7-1. However, a partnership of 85 from Alfie Auguste (24) and Nick Franks (41) put the Royal Sovereign in a good position for the win. Despite a mini-collapse where they slipped from 92-1 to 92-4, batsmen Ken Willock (18no) and captain Lucius (15no) saw the Sov home to a precious win, all with just under 15 overs to spare.

Tower Hamlets (253 all out) resurgence continues with 43 run victory over Camel (209 all out)

In the first innings Tower Hamlets got off to a rocketing start thanks to 48 from S Sohel and 57 from A Biplob bringing the score to 109 for 2 in 15 overs. This was then brought to a halt by the regular fall of wickets. However, Nasir's perseverance in the middle with 52 runs meant Tower Hamlets ended on a good total og 254 at the end of the first innings. This late Camel's resurgence was a team effort with wickets sharing between all the bowlers with Andrew Scott ending with the best first innings bowling figures (3-62).

The second innings began with the opening bowlers running riot sharing 5 wickets between them in 6 overs for 26 runs. Mehede Hassan at the end of the ending with 3 for 29 in 6 overs and Ahaamad Rabby the skipper on day ending with 5 for 31 in 8 overs. However, there was fight back from the lower order with Matt and Andrew scoring 51 and 42 respectively. Despite this, the target of 254 proved a little too much for Camel whose innings ended on 209 in the 40th over. This ended a spectacular batting display backed up by aggressive fast bowling by Tower Hamlets winning the game in the end by 43 runs.
Follow the site to get the latest news and results straight to your email