North East London Cricket League

North East London Cricket League
News Report
Sov sink Fields, Hackney beat Daman and Lads coast past Bloomsbury
24/07/18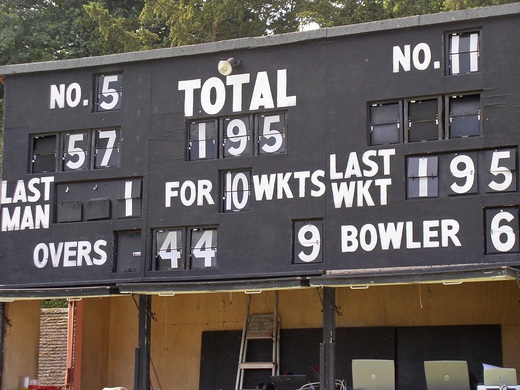 Sovereign see off Fields in nail-biter
Royal Sovereign (131 all out) beat London Fields (124 all out) by 7 runs

A ray of light in a tough season so far for Royal Sovereign, whose fine bowling performance saw them successfully defend an unlikely 131 against previously undefeated London Fields on Saturday.
New Sovereign captain Lucius Fulgence won the toss and elected to bat on a parched pitch. His early confidence brought scant reward as the Sov's recent batting woes continued, losing 4 wickets without 40 on the board as Upen Gusain (3-9) rattled through the top order.

Oli French's (21) characteristically patient resistance ended with a sauntering brainfade of a run-out, and floundering on 89-7 at drinks, the Sov weren't looking likely to snap their 3-game losing streak. After the break, Arlington 'Randy' Fenton (17) and the evergreen Freddie Alexander (14) chipped in with what were to prove invaluable tail-end cameos. Kamor's spin finished what Upen's swing had started, collecting an impressive 4-21 from his seven overs. The Sov all out for 131 inside 27 overs, and stretching their 'runs on the board' positivity to its limit in the break between innings.
With no option but to attack, the Sov got the dream start they needed and quickly reduced Fields to 10-3 – Jamie Wells (4-28) making pinpoint use of an increasingly frayed and corrugated pitch and finally vindicating the decision to bat first.
Fields captain Vijay Singh (27) was looking in imperious touch, but then failed to show a rank loosener from Evans Willie (1-17 to go with two rare slip catches) the respect it absolutely didn't deserve and looped a dolly to mid-off. The game was finely poised at drinks, with Fields having rebuilt to 97-5 courtesy of a few lusty blows towards the lido and some rubbish being dispatched towards the bin.

The fine balance was swiftly tipped back in the Sov's favour as their opening bowlers returned refreshed after the break. A. McCrindle (27) made an admirable attempt to shepherd the tail, but fell to another skied edge – gleefully snaffled by keeper Ken Willock springing from behind the sticks for the first of two catches.

The final pair cut the deficit to single figures to set up a thrilling finish, but one last snorter from pick of the bowlers Joe Allen (4-11) could only be fended to Willock off a glove – the umpire's dramatically slow nod-and-finger routine sparking wild celebrations from an increasingly woozy calypso crowd.

The Sov take their newfound momentum back to Springfield Park next week, where the struggling Stokey Thirds await; London Fields get a couple of weeks off to regroup before taking on the same opposition.
Hackney demolish Daman

Hackney (166/2) beat Daman (165 all out) by 8 wickets
Hackney are hoping for another winning streak after defeating Daman CC inside 23 overs at Millfields on Saturday afternoon.
Daman elected to bat and were set back by a devastating second over in which they lost 3 wickets to Robert Perrett's in-swing. It was start from which Daman were unable to recover, with only Faizal Patel (73) able threaten a counter attack. But after he holed out to cow corner off Hackney's Jack Evans' off-spin, the Daman innings subsided and they finished on 165/10 off 30 overs.
Hackney were sprightly in reply and Jack Evans (82) quickly took the attack to the Daman seamers. After the loss of opener David Burgess, Evans was joined by debutant Jamie Cox (54 not out) who showed an ease at the crease and an ability to strike the ball cleanly. The pair of them put Hackney firmly in the driving seat and when Jack Evans holed out 40 runs left, Jamie Cox shepherded Hackney home with 8 wickets and 17 overs to spare.
Bloody Lads ease past Bloomsbury Royals
The Bloody Lads continued their winning streak beating the new look Bloomsbury Royals side. Winning the toss the BLCC decided to bat on a very dry but sometimes unpredictable pitch. The BLCC innings was punctuated with starts but not many got much further. That is apart from Nauman Iqbal who built on his 107* last week to post another ton finishing on 116. Iqbal showed a mature approach to his stay at the crease dealing with all that was thrown at him. It was a pleasure to watch Iqbal shape the game moving the field around at will to create scoring gaps. With a generous helping of extras the BLCC finished on 266 losing their last wicket with the last ball of the 40th over.

Bloomsbury Royals started off their innings quickly getting to 37-0 off their first 5 overs. Some good stroke play and a rapid outfield made it difficult going for the BLCC bowlers. Sheldon Greenland made the first breakthrough with his rapid pace. Solomon Sule-Legbe came into the attack and dried up the runs. The pair made life very difficult for the Royals as they struggled to score. After switching to round the wicket Greenland took a rapid clutch of wickets to leave the Royals 113-5, Greenland finished with the proud figures of 4-34. Coming on to bowl Stan Grant continued the work Greenland had started. After a shaky first over Grant got his rhythm back settling in and taking wickets at regular intervals to finish with 4-32. The Royals had no answer to excellent BLCC attack and finished the game 83 runs short of their target.


Follow the site to get the latest news and results straight to your email